---
Bells Bridal Limited (View profile)
Tel: 07921 284640
Email:
info@bellsbridal.co.uk
Web:
www.bellsbridal.co.uk
For Brides that want to hitch up their trains, Bells Bridal Pin provides the unique solution.
- No alterations required
- More secure than traditional methods
- Can be personalised & accessorised
- Becomes a wedding keepsake
---
Bridal Fabrics (View profile)
Anchor Mill, Moss Fold Road, Darwen, Lancashire BB3 0AQ
Tel: 01254 700117
Fax: 01254 873659
Email:
info@bridalfabrics.co.uk
Web:
www.bridalfabrics.co.uk
Bridal Fabrics offer the most extensive range of sumptuous laces, exquisite fabrics, trims and appliques with no minimum order value or quantity, a fully stocked range for speedy delivery and first-rate customer service. For the making of beautiful wedding dresses, bridesmaid dresses, prom or evening wear, get in touch.
View the complete range online. We offer a sample service with a range of professional sample books to showcase our collection.
Bridal Fabrics for:
-Stock supported range of laces, fabrics, trims, appliques
-Cut length service / No minimum order
-Friendly, Helpful Customer Service
-Fast & reliable service
-Showroom available by appointment.
---
Dom Bridals (View profile)
30 Norman Way, Over, Cambridge CB24 5QE UK
Tel: 01954 232102
Email:
weddings@mon-cheri.co.uk
Web:
www.moncheri.co.uk
---
Eternity Bridal (View profile)
Commercial Yard, 62 High Street, Knaresborough, North Yorkshire HG5 0EA UK
Tel: +44 (0)423 866720
Email:
info@eternitybridal.co.uk
Web:
www.eternitybridal.co.uk
Eternity Bridal Ltd offers wedding dresses from Eternity Bride, Art Couture, Christina Wu, bridesmaids from Christina Wu occassions and prom gowns from Eternity prom.
---
Hilary Morgan (View profile)
17 Gloucester Road, Grantham, Lincolnshire NG31 8RJ
Tel: 01476 590255
Email:
sales@warrenyork.co.uk
Web:
www.hilarymorgan.com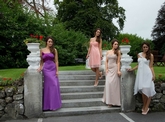 Hilary Morgan, a dress for every occasion whether it be for Bridal, bridesmaids or your special prom.
Our extensive bridesmaids and prom collections are available in over 90 colours, with more new colours being continually added. No other supplier can offer you this variation. With extra lengths and shorter lengths available in most designs, and gowns available from size 8 to 30+ we feel we offer you a wider choice.
With Little People flowergirls available in the same extensive choice of colours, your wedding party is complete. Warren York Accessories to compliment.
---
Loveitsomuch (View profile)
31 Orchard Close, Great Hale, Lincolnshire NG34 9JB
Tel: 01529 461354
Email:
pamela@loveitsomuch.net
Web:
www.loveitsomuch.net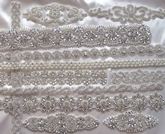 Crystal, rhinestone and pearl appliques and trims
Change a dress to make it individual and add some bling.
Trims can be a continuous length; you decide what you need.
Iron on or sew on.
No minimum order
Please contact for wholesale pricing.
---
The Bridal Roadshow Ltd (View profile)
Tel: 01827 55123
Email:
info@bridalroadshow.co.uk
Web:
www.bridalroadshow.co.uk
The Bridal Roadshow is a dedicated exhibition by Bridal Suppliers where ranges can be showcased in the retailers local area, staged across the year.
We pride ourselves on ensuring a welcoming atmosphere at the shows where retailers are put first. Check out our website for updates and information.
---
Tiffanys Wholesale Ltd (View profile)
Unit 700 Fareham Reach Business Park, 166 Fareham Road, Gosport, Hampshire PO13 0FW UK
Tel: 02380 334 322
Email:
michael@tiffanys-online.co.uk
Web:
www.tiffanys-online.co.uk
Tiffanys are proud to present our four collections of dresses Jessica Grace Bridal, Bliss Bridal, Serenade Bridesmaids and our Illusion Prom and Evening dresses.
We wholesale across the country and cherish our relationships with our stockists. We are a family run business priding ourselves on delivering beautiful dresses using the finest fabric and details at affordable prices.