Trade suppliers' directory
You are currently browsing: Bridal Consultancy
---
Please mention Attire Bridal when contacting suppliers.
---

Tel: 01582 451238 / Mob: 07896 944759
Email:
info@helenacotter.co.uk
Web:
www.helenacotter.co.uk
In 2003, I started my company with the vision of developing a universal standard of excellence for Bridal Retailers. I am passionate about empowering business owners and making their lives easier by giving them the tools they need to be even more successful.
I love working with clients with whom I share the same core values and beliefs. Having this connection makes for a trusting, long term business relationship.
I travel all over the UK and Ireland delivering a range of specialist in house services. I love sharing the easy to learn secrets of how to work smarter, not harder in this niche Industry.
---
Bridal Industry Consultant (View profile)
Tel: 07909 520247
Email:
janewatson@bridalbusiness.co.uk
Web:
www.bridalbusiness.co.uk
Jane Watson Business Consultant
Established within the bridal Industry offering advice for over 20 years has a wealth of experience within the trade and retail sector.
New or Established Retailers and Bespoke designers have benefited from her expertise, you can benefit from a consultation to set up or enhance your proposed or established businesses.
If you are planning to open a new bridal business you may find the following editorial by Jane Watson helpful: 'Starting or enhancing a bridal business' & 'Setting up shop'.
To read more about the services offered and freewebsite: VISIT OUR WEBSITE www.bridalbusiness.co.uk and connect to the links • Starting a bridal business and Enhancing a bridal business.
If you would like tan informal conversation or to book a Consultation please contact: Jane Watson now
---
British Bridal (View profile)
Tel: 01484 518371
Email:
wholesale@britishbridaloutlets.co.uk
Web:
www.britishbridaloutlets.co.uk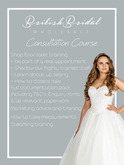 Consultancy Courses
We offer an incredible consultancy course like no other out there!! It includes LIVE sales training with REAL BRIDES.
You will work with our highly trained staff with over 30 years experience. Developing and tailoring your sales techniques. You will learn about branding and budgeting for the new millennial brides. Not only that but you will get to take part in actual bridal appointments.
For more information contact our team.
---
Helena Cotter Bridal Retail Training (View profile)
Tel: 07896 944759
Email:
info@helenacotter.co.uk
Web:
www.helenacotter.co.uk
Bridal Sales Training & Consultancy
Learn how to work smarter, not harder:
Increase your turnover
Improve your profits
Have the edge and keep it