You are currently browsing: Mens Formal Hire
---
Please mention Attire Bridal when contacting suppliers.
---
Colin Ross Mens Wedding Shirts (View profile)
7 Hacche Lane Business Park, South Molton, Devon EX36 3JB
Tel: 01769 572 676
Email:
sales@colinrossuk.com
Web:
www.trade.colinrossuk.com
Wedding Hire & Dress Shirts
Wedding Hire Shirts, Dress Shirts and Accessories
White, Ivory & Black
Slim & Standard Fit
Extra Long Sleeves
---
L.A.Smith (View profile)
Limestone Road Nantyglo, Brynmawr, Gwent NP23 4ND
Tel: 01495 310798
Email:
sales@robertogroup.co.uk
Web:
www.l-a-smith.co.uk
We stock a large range of dress shirts, including well-priced dress shirts aimed at the hire business; a cotton rich dress shirt collection and marcella dress shirts.
Our polyester, washable waistcoats are available in plain shantung and a wide variety of wedding designs all with matching ties, cravats, hanks and bows.
We also offer silk shantung waistcoats and matching accessories.
Furthermore, we have a large range of cufflinks, designed to suit the above.
---
WILVORST - Herrenmoden GmbH (View profile)
Stettiner Str. 6-8, Northeim, Niedersachsen 37154 Germany
Tel: 0117 932 7905 / 0049 5551 701207
Fax: 0049 5551 701251
Email:
ak.hupe@wilvorst.de
Web:
www.wilvorst.de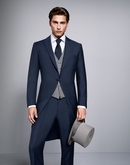 WILVORST was founded 1916 in Stettin. WILVORST are the initials of the owners name and of his home town; WIlhelm VORdemfelde, STettin.
From the beginning the most important goals are: high quality fabrics - high quality staff - quality, fit and processing to the smallest detail. With WILVORST the future groom can act out his individual style. The WILVORST collection is a well done mixture of elegance, value and comfort at the same time. It exactly reflects the modern men´s attitude to life.