---
Athena Bridal Jewellery (View profile)
27 Old Gloucester Street, London, WC1N 3AX United Kingdom
Tel: 0845 257 0766
Email:
sales@athenabridaljewellery.com
Web:
www.athenabridaljewellery.com
Exquisite Wholesale Bridal Jewellery and accessories available online.
We offer a fabulous selection of bridal & prom jewellery to retailers across the UK as well as worldwide. We operate on a strictly trade only basis. Images are available upon request.
---
Bridal Fabrics (View profile)
Anchor Mill, Moss Fold Road, Darwen, Lancashire BB3 0AQ
Tel: 01254 700117
Fax: 01254 873659
Email:
info@bridalfabrics.co.uk
Web:
www.bridalfabrics.co.uk
Bridal Fabrics offer the most extensive range of sumptuous laces, exquisite fabrics, trims and appliques with no minimum order value or quantity, a fully stocked range for speedy delivery and first-rate customer service. For the making of beautiful wedding dresses, bridesmaid dresses, prom or evening wear, get in touch.
View the complete range online. We offer a sample service with a range of professional sample books to showcase our collection.
Bridal Fabrics for:
-Stock supported range of laces, fabrics, trims, appliques
-Cut length service / No minimum order
-Friendly, Helpful Customer Service
-Fast & reliable service
-Showroom available by appointment.
---
Dom Bridals (View profile)
30 Norman Way, Over, Cambridge CB24 5QE UK
Tel: 01954 232102
Email:
weddings@mon-cheri.co.uk
Web:
www.moncheri.co.uk
---
Joan Lee Accessories (View profile)
Unit 3 Marsland Street Ind. Estate, ,
Tel: 0161 480 0435
Email:
joanleewholesale@aol.com
Web:
www.joanlee.co.uk
Joan Lee Accessories have a stunning and Luxurious range of MARABOU and OSTRICH Feather Wraps, Boleros & Jackets. Plus sizes are also available. call us today 016 456 2211 or have a look at our web site
www.joanlee.co.uk
---
Pongees Limited (View profile)
9 Schooner Park, Crossway Business Park, Dartford, Kent DA2 6NW UK
Tel: 0207 739 9130
Fax: 0207 739 9132
Email:
sales@pongees.co.uk
Web:
www.pongees.co.uk
Specialists in silk
100% silk fabrics fully stock supported in our Dartford warehouse. New colours in marocain and sand washed crepe from the new year. View these and the full range at our London showroom or buy online.
1m minimum order
Next day delivery
New Showroom:
Pongees Limited, Fountain House, 4 Chapel Place, Rivington Street, London, EC2A 3DQ.
---
Randall Ribbons (View profile)
12 Federick Street, Luton, LU2 7QS England
Tel: +44 (0)1582 721301
Fax: +44 (0)1582 611054
Email:
sales@randallribbons.co.uk
Web:
www.randallribbons.co.uk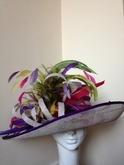 Mother of the Bride or Guest, we can tailor make your perfect wedding hat or fascinator.