---

Unit 15, Ashley Industrial Estate, Mereside, Soham, Cambridgeshire CB7 5EE
Tel: 01353 723675
Fax: 01353 721647
Email:
enquiries@elizabethdickensveils.co.uk
Web:
www.elizabethdickensveils.co.uk
At Elizabeth Dickens, we design and manufacturer beautiful, hand-made bridal veils and accessories, using the finest materials from across the world. We have an extensive, carefully created collection, including contemporary, classic and laced-edged veils, as well as gorgeous belts and head pieces. Each item is made lovingly here in the UK by our highly-skilled team, offering something special for every bride.
So if you're a new or existing stockist looking for the latest designs to add to your bridal range that are British-made, imaginatively designed and beautifully constructed, please do get in touch. We'd love to hear from you.
---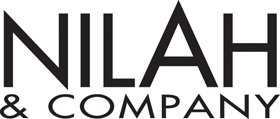 36 W Eagle Road, Havertown, Pennsylvania 19083 United States
Tel: 001 610 853 9822
Email:
nilah@nilah.com
Web:
www.nilah.com
Bridal veils - the finishing touch to every wedding look.
At Nilah & Company, we help you give even the most unique of brides exactly what they want. From our specialty line, classic line, as well as custom designs we have a stunning array of options for every bride.
Each veil is a handmade work of art, made from the finest French laces, Swarovski crystals, and other exquisite materials.
From our vintage inspired "non-veil" to a stunning pink and gold cathedral veil, our creations are as unique as the brides who wear them.
---
Bridal Fabrics (View profile)
Anchor Mill, Moss Fold Road, Darwen, Lancashire BB3 0AQ
Tel: 01254 700117
Fax: 01254 873659
Email:
info@bridalfabrics.co.uk
Web:
www.bridalfabrics.co.uk
Bridal Fabrics offer the most extensive range of sumptuous laces, exquisite fabrics, trims and appliques with no minimum order value or quantity, a fully stocked range for speedy delivery and first-rate customer service. For the making of beautiful wedding dresses, bridesmaid dresses, prom or evening wear, get in touch.
View the complete range online. We offer a sample service with a range of professional sample books to showcase our collection.
Bridal Fabrics for:
-Stock supported range of laces, fabrics, trims, appliques
-Cut length service / No minimum order
-Friendly, Helpful Customer Service
-Fast & reliable service
-Showroom available by appointment.
---
Elizabeth Dickens (View profile)
Tel: 01353 723675
Fax: 01353 721647
Email:
enquiries@elizabethdickensveils.co.uk
Web:
www.elizabethdickensveils.co.uk
Designers & Manufacturers of Bridal Veils.
Brochure now available
All UK manufacture in our own factory. No minimum order, post & packing included. Over 30 veiling colours, some unique to us.
---
Lily Bella (View profile)
Email:
info@lilybella.co.uk
Web:
www.lilybella.co.uk
Stockists required - low minimum order
If you would like to stock the Lily Bella range please email us.
---
Nilah & Company (View profile)
36 W Eagle Road, Havertown, Pennsylvania 19083 United States
Tel: 001 610 853 9822
Email:
nilah@nilah.com
Web:
www.nilah.com
Classic ~ Couture ~ Custom
Your Source For Fine Wedding Veils.
Made in the USA
To view the collection, get prices or to order a sample contact us today.
---
Nymphi Design (View profile)
Th.Diligianni str.49, Kefalari Kifisias, Attiki 14562 Greece
Tel: 0030 6978 465695
Email:
letstalk@nymphidesign.com
Web:
www.nymphidesign.com
The wild setting of the Mani, rich in legends and abundant in light and color, offered the inspiration for Barbara Dimitrea and the creation of Nymphi.
A nymph in Greek mythology is a creature of haunting beauty. She is free to dwell, to dance and sing in the mountains, springs, rivers and groves. She is connected to her natural surrounding and her beauty reflects her divine spirit.
At Nymphi, a niche design label based in Southern Greece, we work to embody this spirit.
Talented and inspired artisans create bridal gowns and accessories sewn by hand, from the very finest materials.
Beautiful stones and embroidery, lace and luxury fabrics that have to be touched to be believed, many times used in the most unusual way.
Bringing together design and a love of comfort and the perfect fit, Nymphi gowns are designed and perfected on women, appreciating the complexity of the female form.
---
Pongees Limited (View profile)
9 Schooner Park, Crossway Business Park, Dartford, Kent DA2 6NW UK
Tel: 0207 739 9130
Fax: 0207 739 9132
Email:
sales@pongees.co.uk
Web:
www.pongees.co.uk
Specialists in silk
100% silk fabrics fully stock supported in our Dartford warehouse
1m minimum order
Next day delivery
New Showroom:
Pongees Limited, Fountain House, 4 Chapel Place, Rivington Street, London, EC2A 3DQ.
---
Sassi Holford Taunton (View profile)
6 The Bridge, Taunton, Somerset TA1 1UG England
Tel: 01823 256012
Email:
taunton@sassiholford.com
Web:
www.sassiholfordtaunton.co.uk
The Couture Veil
A range of luxury veils designed by Sassi Holford. The collection is truly inspirational and offers a choice of tiers, trims and tulles. Sassi's chic birdcage veil designs are stunning and perfectly complemented by a very fashionable selection of beaded cuffs and belts. The Couture Veil collection is handmade in Sassi's own workrooms and is available at an exclusive list of retailers across the country including the two Sassi Holford boutiques.
---
Twilight Designs Limited (View profile)
Unit 8, 113 Kettlebrook Road, Kettlebrook Industrial Estate, Tamworth, Staffordshire B77 1AG
Tel: 01827 55444
Email:
info@twilightdesigns.co.uk
Web:
www.twilightdesigns.co.uk
Our aim is to provide availability on all Twilight products all year round to promote our excellent consistency of supply. We pride ourselves on our fast, efficient and professional service. We do not sell direct to the general public or have an alternative site that allows this.
---
Wedding Factory Direct.com (View profile)
292 West Boylston St (2nd Floor), Worcester, MA 01606 USA
Tel: 1 800 790 4325
Fax: 1 508 595 9400
Email:
info@weddingfactorydirect.com
Web:
www.weddingfactorydirect.com
INTERNATIONAL DROP SHIPPING
BEST PRICES
NO MINIMUM
VOLUME DISCOUNTS
10% OFF
Order of $300 or more
PROMO CODE: UK10
20% OFF
Order of $1,500 or more
PROMO CODE: UK20
Enter promo code at checkout. One time use only.