---
Bridal Fabrics (View profile)
Anchor Mill, Moss Fold Road, Darwen, Lancashire BB3 0AQ
Tel: 01254 873333
Fax: 01254 873659
Email:
info@bridalfabrics.co.uk
Web:
www.bridalfabrics.co.uk
Bridal Fabrics offer the most extensive range of sumptuous laces, exquisite fabrics, trims and appliques with no minimum order value or quantity, a fully stocked range for speedy delivery and first-rate customer service. For the making of beautiful wedding dresses, bridesmaid dresses, prom or evening wear, get in touch.
View the complete range online. We offer a sample service with a range of professional sample books to showcase our collection.
Bridal Fabrics for:
-Stock supported range of laces, fabrics, trims, appliques
-Cut length service / No minimum order
-Friendly, Helpful Customer Service
-Fast & reliable service
-Showroom available by appointment.
---
Impression UK (View profile)
Unit 4 181a Verulam Road, St Albans, HERTS AL3 4DR UK
Tel: 01727 851452
Email:
info@impressionbridal.co.uk
Web:
www.ashleyjustinbride.com
Impression UK offers bridal, bridesmaids and prom gowns by Ashley & Justin Bride, Davinci, Cristiano Lucci & J'Adore to stores in the UK, Ireland and the rest of Europe. Latest prom range by Zoey Grey has been a revelation!
Excellent delivery, quality and customer service.
Ashley & Justin = romantic fashion forward gowns at great prices
Davinci & J'Adore = proven winners for budget conscious brides
Cristiano Lucci = couture glamour
---
Karen Dornellie (View profile)
35a St James St, Newport, Isle of Wight PO30 1LG United Kingdom
Tel: 01983 525234 or 07972 819854
Email:
hello@dornellie.com
Web:
www.karendornellie.com
Unique and beautiful bridal wear for unique and beautiful brides.
Specialising in veils and headpieces but also with a new collection of bridal separates.
Also the creator of Rainaway Bride and Bibbidy Bride
---
Ladybird bv (View profile)
Handelsweg 11, Huizen, 1271 EJ the Netherlands
Tel: 0031 (0)35 525 06 11
Fax: 0031 (0)35 526 64321
Email:
info@ladybird.nl
Web:
www.ladybird.nl
Your recipe for success
Ladybird is one of Europe's most successful bridal fashion manufacturers. For a good reason!
Ladybird's versatile collections offer you the unique possibility of expanding your collection of high-quality bridal wear. All this is possible thanks to the affordable prices, superior quality and perfect fitting of Ladybird's bridal dresses.
Also Ladybird's excellent service and the diversity of marketing options make it a valuable addition to your store.
---
UK Bridal Imports (View profile)
Unit 1 Box Tree Buildings, A683 Near Barbon, Kirkby Lonsdale, Cumbria LA6 2LS United Kingdom
Tel: 01524 220250
Email:
contact@ukbridalimports.co.uk
Web:
www.ukbridalimports.co.uk
Based in the beautiful Cumbian hills of the South Lakes we work with designers around the globe to bring wholesale of Bridal, Occasion and Prom wear to the UK & Ireland.
---
Victoria Kay (View profile)
Old Salvation Army Hall, Menzies Road, St Leonards on Sea, East Sussex TN38 9BB UK
Tel: +44 (0)1424 439165
Email:
victoriakaygowns@hotmail.co.uk
Web:
www.victoriakay.co.uk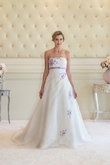 Victoria Kay was established in 2006 by husband and wife team Khalid and Lisa Al-Amoodi…it is very much a family run business and that's what keeps us a strong business as we are all very determined to offer a very high standard of service.
Beautiful designer bridal gowns at affordable prices, our team here at Victoria Kay work hard with our designers to create the most stunning gowns for our brides.
Please phone our sales team for an appointment.