---
Elegancia UK Ltd (View profile)
106 Fonthill Road, Finsbury Park, London, N4 3HT
Tel: 020 7263 9595
Email:
info@angelforever.co.uk
Web:
www.angelforever.co.uk
Angel Forever is a renowned fashion house based in united kingdom. we have exclusive collections epitomise the fashion's lifestyle of today's lady. our each look is designed to enhance and fit the female form with fashion forward styling and wear-ability. our pride is in providing our customers with a wide variety of high end gowns.
The Angel Forever is where you will find a collection of beautiful designs that have something special to say.
Join us for a glass of champagne on STAND B14/26, browse our collection and become part of highly successful "Angel Forever" by Elegancia uk ltd network.
Exclusivity will be given on first come first serve basis.
THE HARROGATE BRIDAL SHOW
STAND B14/26
---
Hilary Morgan (View profile)
17 Gloucester Road, Grantham, Lincolnshire NG31 8RJ
Tel: 01476 590255
Email:
rachel@warrenyork.co.uk
Web:
www.hilarymorgan.com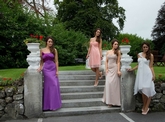 hilary morgan, a dress for every occasion whether it be for Bridal, bridesmaids or your special prom.
Our extensive bridesmaids and prom collections are available in over 90 colours, with more new colours being continually added. No other supplier can offer you this variation. With extra lengths and shorter lengths available in most designs, and gowns available from size 8 to 30+ we feel we offer you a wider choice.
With Little People flowergirls available in the same extensive choice of colours, your wedding party is complete. Shades Shoes can be dyed to match and Warren York Accessories to compliment.
---
Loveitsomuch (View profile)
31 Orchard Close, Great Hale, Lincolnshire NG34 9JB
Tel: 01529 461354
Email:
pamela@loveitsomuch.net
Web:
www.loveitsomuch.net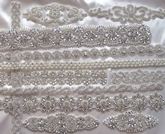 Crystal, rhinestone and pearl appliques and trims
Change a dress to make it individual and add some bling.
Trims can be a continuous length; you decide what you need.
Iron on or sew on.
No minimum order
Please contact for wholesale pricing.
---
Platinum Bridal Fabrics (View profile)
Anchor Mill, Moss Fold Road, Darwen, Lancashire BB3 0AQ
Tel: 01254 873333
Fax: 01254 873659
Email:
info@bridalfabrics.co.uk
Web:
www.bridalfabrics.co.uk
Platinum Bridal Fabrics offer the best range of Fabrics, laces and trims for the making predominantly of Wedding Dresses, but also for Evening and Prom wear.
Our complete range is available in THE PLATINUM BRIDAL COLLECTION BOOK or view online.
Stock supported fabric range
Cut length service / No minimum order
Friendly, Helpful Customer Service.
Fast & reliable service
Show Room available by appointment.
---
The Bridal Roadshow Ltd (View profile)
Tel: 01827 55123
Email:
info@bridalroadshow.co.uk
Web:
www.bridalroadshow.co.uk
The Bridal Roadshow is a dedicated exhibition by Bridal Suppliers where ranges can be showcased in the retailers local area, staged across the year.
We pride ourselves on ensuring a welcoming atmosphere at the shows where retailers are put first. Check out our website for updates and information.