---
53 Moreton Street, London, SW1V 2NY
Tel: 020 7821 9499
Email:
info@littlebevan.co.uk
Web:
www.littlebevan.co.uk
Little Bevan creates enchanting dresses for flower girls, cute separates for pageboys, and dresses for teen & adult bridesmaids. Inspired by the luxury of vintage fashions, the designs have a quintessential English style. The finest outfits for all the young attendants, which gives the ultimate look for a memorable day!
With utmost care given to designs, quality fabrics and fine details our styles are presented in silk dupion, chantilly lace, countess satin and our soft & floaty signature silk organza in a palate of over 30 pretty colours. Choose from our collections with individual sizes for all ages, or our couture service to create an exclusive design.
---
Hilary Morgan (View profile)
17 Gloucester Road, Grantham, Lincolnshire NG31 8RJ
Tel: 01476 590255
Email:
rachel@warrenyork.co.uk
Web:
www.hilarymorgan.com
hilary morgan, a dress for every occasion whether it be for Bridal, bridesmaids or your special prom.
Our extensive bridesmaids and prom collections are available in over 90 colours, with more new colours being continually added. No other supplier can offer you this variation. With extra lengths and shorter lengths available in most designs, and gowns available from size 8 to 30+ we feel we offer you a wider choice.
With Little People flowergirls available in the same extensive choice of colours, your wedding party is complete. Shades Shoes can be dyed to match and Warren York Accessories to compliment.
---
LaceyBell (View profile)
Unit A2, 8 Sandy Court, Walter Leighway, Moss Industrial Estate, Leigh, Lancashire WN7 3PT
Tel: 01942 665 150
Email:
info@laceybell.co.uk
Web:
www.laceybell.co.uk
---
Loveitsomuch (View profile)
31 Orchard Close, Great Hale, Lincolnshire NG34 9JB
Tel: 01529 461354
Email:
pamela@loveitsomuch.net
Web:
www.loveitsomuch.net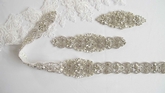 Rhinestone and crystal appliques and trims
Offering matching designs in different lengths. Great idea for bride to match her bridesmaids and flower girls. Prices range from £15 to the longest (59cm) £37.
Trims can be a continuous length; you decide what you need.
Iron on or sew on.
Please contact for wholesale pricing.
No minimum order
---
Phoenix Gowns (View profile)
Tel: 01689 831841
Email:
sales@phoenixgowns.co.uk
Web:
www.phoenixgowns.co.uk
PHOENIX GOWNS
2017 ENCHANTED COLLECTION
To see the full collection and find your nearest stockists visit: www.phoenixgowns.co.uk email: sales@phoenixgowns.co.uk
---
The Bridal Roadshow Ltd (View profile)
Tel: 01827 55123
Email:
info@bridalroadshow.co.uk
Web:
www.bridalroadshow.co.uk
The Bridal Roadshow is a dedicated exhibition by Bridal Suppliers where ranges can be showcased in the retailers local area, staged across the year.
We pride ourselves on ensuring a welcoming atmosphere at the shows where retailers are put first. Check out our website for updates and information.
---
Victoria Kay (View profile)
Old Salvation Army Hall, Menzies Road, St Leonards on Sea, East Sussex TN38 9BB UK
Tel: +44 (0)1424 439165
Email:
victoriakaygowns@hotmail.co.uk
Web:
www.victoriakay.co.uk
Victoria Kay was established in 2006 by husband and wife team Khalid and Lisa Al-Amoodi…it is very much a family run business and that's what keeps us a strong business as we are all very determined to offer a very high standard of service.
Beautiful designer bridal gowns at affordable prices, our team here at Victoria Kay work hard with our designers to create the most stunning gowns for our brides.
Please phone our sales team for an appointment.