---
Colin Ross Mens Wedding Shirts (View profile)
7 Hacche Lane Business Park, South Molton, Devon EX36 3JB
Tel: 01769 572 676
Email:
sales@colinrossuk.com
Web:
www.trade.colinrossuk.com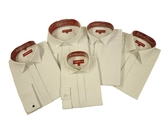 Wedding Hire Shirts, Dress Shirts and Accessories
White, Ivory & Black
Slim & Standard Fit
Extra Long Sleeves
---
L.A.Smith (View profile)
Limestone Road Nantyglo, Brynmawr, Gwent NP23 4ND
Tel: 01495 310798
Email:
sales@robertogroup.co.uk
Web:
www.l-a-smith.co.uk
We stock a large range of dress shirts, including well-priced dress shirts aimed at the hire business; a cotton rich dress shirt collection and marcella dress shirts.
Our polyester, washable waistcoats are available in plain shantung and a wide variety of wedding designs all with matching ties, cravats, hanks and bows.
We also offer silk shantung waistcoats and matching accessories.
Furthermore, we have a large range of cufflinks, designed to suit the above.
---
Platinum Bridal Fabrics (View profile)
Anchor Mill, Moss Fold Road, Darwen, Lancashire BB3 0AQ
Tel: 01254 873333
Fax: 01254 873659
Email:
info@bridalfabrics.co.uk
Web:
www.bridalfabrics.co.uk
Platinum Bridal Fabrics offer the best range of Fabrics, laces and trims for the making predominantly of Wedding Dresses, but also for Evening and Prom wear.
Our complete range is available in THE PLATINUM BRIDAL COLLECTION BOOK or view online.
Stock supported fabric range
Cut length service / No minimum order
Friendly, Helpful Customer Service.
Fast & reliable service
Show Room available by appointment.
---
WILVORST - Herrenmoden GmbH (View profile)
Stettiner Str. 6-8, Northeim, Niedersachsen 37154 Germany
Tel: 0117 932 7905 / 0049 5551 701207
Fax: 0049 5551 701251
Email:
ak.hupe@wilvorst.de
Web:
www.wilvorst.de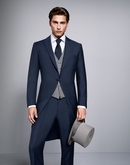 WILVORST was founded 1916 in Stettin. WILVORST are the initials of the owners name and of his home town; WIlhelm VORdemfelde, STettin.
From the beginning the most important goals are: high quality fabrics - high quality staff - quality, fit and processing to the smallest detail. With WILVORST the future groom can act out his individual style. The WILVORST collection is a well done mixture of elegance, value and comfort at the same time. It exactly reflects the modern men´s attitude to life.