---
Colin Ross Mens Wedding Shirts (View profile)
7 Hacche Lane Business Park, South Molton, Devon EX36 3JB
Tel: 01769 572 676
Email:
sales@colinrossuk.com
Web:
www.trade.colinrossuk.com
Wedding Hire Shirts, Dress Shirts and Accessories
White, Ivory & Black
Slim & Standard Fit
Extra Long Sleeves
---
KNIGHTSBRIDGE NECKWEAR (View profile)
Unit 7, Brewery Close, Barker Business Park, RIPON, North Yorkshire HG4 5NL United Kingdom
Tel: 01765 640576
Email:
darren@knightsbridgeneckwear.co.uk
Web:
www.knightsbridgeneckwear.com
Knightsbridge Neckwear was founded by Darren Farrell in 2007: "It was born out of my fathers' love of the most famous corner shop in London, where that shop happened to be situated and his fondness of Britain in the 1960's. This decade, together with my love of all things retro, gave me the inspiration to start putting together my first collection."
We are a family run firm and we offer a combination of both quality and service. Our aim is to offer every customer a wide collection of luxury gents accessories and neckwear.
We trawl classic British images from the 1920s, 40s, and 60's era, design our artworks based on these adding our own unique twist, then source the fabrics globally. We use very few mills for manufacturing in limited edition quantities, which enables us to produce each collection with attention to detail.
---
L.A.Smith (View profile)
Limestone Road Nantyglo, Brynmawr, Gwent NP23 4ND
Tel: 01495 310798
Email:
sales@robertogroup.co.uk
Web:
www.l-a-smith.co.uk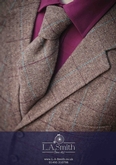 We stock a large range of dress shirts, including well-priced dress shirts aimed at the hire business; a cotton rich dress shirt collection and marcella dress shirts.
Our polyester, washable waistcoats are available in plain shantung and a wide variety of wedding designs all with matching ties, cravats, hanks and bows.
We also offer silk shantung waistcoats and matching accessories.
Furthermore, we have a large range of cufflinks, designed to suit the above.
---
The Bridal Roadshow Ltd (View profile)
Tel: 01827 55123
Email:
info@bridalroadshow.co.uk
Web:
www.bridalroadshow.co.uk
The Bridal Roadshow is a dedicated exhibition by Bridal Suppliers where ranges can be showcased in the retailers local area, staged across the year.
We pride ourselves on ensuring a welcoming atmosphere at the shows where retailers are put first. Check out our website for updates and information.
---
WILVORST - Herrenmoden GmbH (View profile)
Stettiner Str. 6-8, Northeim, Niedersachsen 37154 Germany
Tel: 0117 932 7905 / 0049 5551 701207
Fax: 0049 5551 701251
Email:
ak.hupe@wilvorst.de
Web:
www.wilvorst.de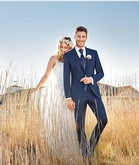 WILVORST was founded 1916 in Stettin. WILVORST are the initials of the owners name and of his home town; WIlhelm VORdemfelde, STettin.
From the beginning the most important goals are: high quality fabrics - high quality staff - quality, fit and processing to the smallest detail. With WILVORST the future groom can act out his individual style. The WILVORST collection is a well done mixture of elegance, value and comfort at the same time. It exactly reflects the modern men´s attitude to life.