Trade suppliers' directory
You are currently browsing: Hats
---
Please mention Attire Bridal when contacting suppliers.
---
Jewellery World (View profile)
GoldFinger House, 5 Chatley Street, Cheetham, Manchester, M3 1HU United Kingdom
Tel: 0161 834 5007
Fax: 0161 835 3238
Email:
bridget@jewellery-world.co.uk
Web:
www.jewellery-world.co.uk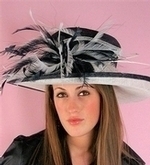 Jewellery World stocks a huge range of Tiaras, Occasion Hats & fascinators, bridesmaids hair accessories, cufflinks and bridal jewellery.
We have a large selection of goods on our website and many more lines in store in our Manchester showroom which is open
Monday-Friday, 10:00 am until 6:00pm.
Sunday, 10:00am until 2:00pm.