---
Bells Bridal Limited (View profile)
Tel: 07921 284640
Email:
info@bellsbridal.co.uk
Web:
www.bellsbridal.co.uk
For Brides that want to hitch up their trains, Bells Bridal Pin provides the unique solution.
- No alterations required
- More secure than traditional methods
- Can be personalised & accessorised
- Becomes a wedding keepsake
---
Lido Pearls (View profile)
Tel: 01245 360949
Email:
lorraine@lido-collection.co.uk
Web:
www.lido-collection.co.uk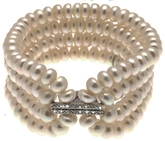 Pearls & Gemstones Collection
---
Reed Exhibitions Ltd (View profile)
Tel: +44 (0)208 2712 144
Email:
ijlteam@reedexpo.co.uk
Web:
www.jewellerylondon.com
Be Inspired by the finest in Jewellery.
Celebrating the most talented and innovative British and International Jewellery designers., wholesalers and manufacturers, International Jewellery London delivers a world class Jewellery trade event.
Combining the classic with the contemporary from the latest collections to one-off show stopping pieces. IJL is a unique environment for Jewellery retailers to source new product, be inspired and build business relationships old and new, all ahead of the Christmas buying period and beyond.
Register to attend IJLnow at www.jewellerylondon.com/attend
---
Starlet Jewellery (View profile)
Tel: 0208 004 8883
Email:
info@starletjewellery.com
Web:
www.starletjewellery.com
Offering glamourous wedding jewellery and hair accessories for glittering brides. Trade only Starlet Jewellery pieces use simulated diamonds and freshwater pearls to create unique luxury pieces at affordable prices.
No minimum order and fast delivery!
* 10% off first order
* Request a brochure
---
Stephanie Browne Australia (View profile)
Tel: 0330 2000 302
Email:
info@stephaniebrowne.com.au
Web:
www.stephaniebrowne.com.au
THE LUXE AND LUMINOUS JEWELLERY COLLECTION
WHITE GALLERY 2017 / LONDON SHOWROOM
---
Twilight Designs Limited (View profile)
Unit 8, 113 Kettlebrook Road, Kettlebrook Industrial Estate, Tamworth, Staffordshire B77 1AG
Tel: 01827 55444
Email:
info@twilightdesigns.co.uk
Web:
www.twilightdesigns.co.uk
Our aim is to provide availability on all Twilight products all year round to promote our excellent consistency of supply. We pride ourselves on our fast, efficient and professional service. We do not sell direct to the general public or have an alternative site that allows this.